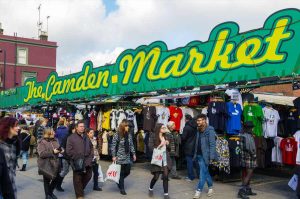 London's Camden Market Bans Sale of Real Fur
Camden Market, one of the most iconic markets in London, have made the monumental decision to ban the sale of real fur throughout its 300 plus market stalls and shops.
Attracting approximately 250,000 shoppers per week, the decision to ban fur is a bold move for Camden, with spokesperson stating "having reviewed the position of the Market with regard to traders selling fur, Camden Market owners, LabTech will be implementing a ban on fur from March 1. Whilst we respect and encourage independent business, with many niche traders, we do not feel fur has a place in Camden Market."
Camden are not the first market to ban the sale of real fur this year, with Old Spitalfields Market – one of the most historic markets in the capital – also placing a ban on real fur sales from the start of 2018.
Animal charity PETA's director of corporate projects, Yvonne Taylor commented "whether it's a fluffy rabbit-fur key ring or a vintage fox-fur coat, all items made of fur are a product of extreme suffering" and commends Camden for "doing the right thing" in regard to the total ban on fur sales.  
PETA UK is currently campaigning for a 'Fur Free Britain', urging the UK Government to retain an import on all animal fur.
Andrea Sblano – March 2018